Baked Tilapia With Veggies, Herbs, and Wine
Janni402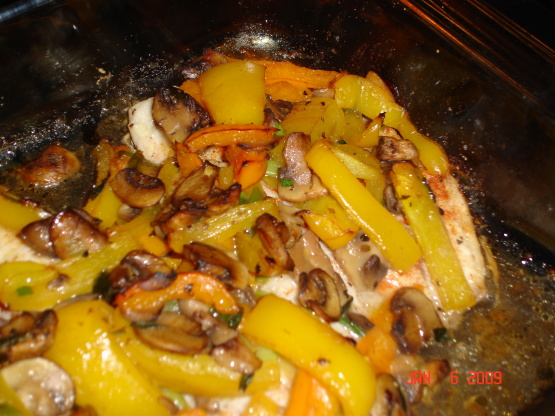 Delicious, fast, easy, and low-fat. What more could you want?

My whole family (including kids!) really liked this. I was very doubtful as it went together though. I thought I had sherry but didn't, and used vermouth instead. It worked really well as a substitute. Will try it with sherry next time though. I used sliced baby bellas rather than dicing a large portabella. Other than that, I followed the recipe eactly. I used the full amount of tarragon, and it really only added a mild flavor. Thank you!
Preheat oven to 450°F.
Spray a baking dish (about 11"X7") and arrange filets in a single layer.
Overlap slightly if necessary.
Sprinkle with salt and paprika; Set aside.
In a small skillet, heat olive oil; quickly saute portabello, green onion and yellow pepper, about 2-3 minutes.
Add sherry and tarragon, and simmer 2-3 minutes more.
If this mixture is very wet, simmer to reduce another minute or two.
Spoon contents of skillet over fish.
Bake@ 450F 20-30 minutes, depending on the thickness of your filets.