Baked Tilapia W/ Fondue Sauce and Crab
teresas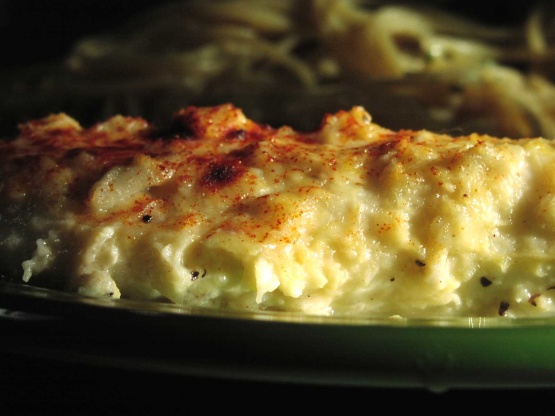 The sauce on this is so creamy...you would never guess that it is low in fat!

VERY GOOD! But unfortunately, I forgot the salt, pepper, and paprika. So don't do that and you will probably end up with a 5 star dish. Thank you!
Preheat oven to 400.
For the sauce, melt the butter in a pan. Stir in the flour and nutmeg until smooth.
Gradually stir in the milk. Cook until smooth and thickens a little.
Add the cheese, and stir until melted. Add in the sherry and crab meat, mixing well to coat the crab.
Season tilapia with salt and pepper. Place the tilapia in an 8x8 pan.
Pour the fondue-crab sauce over the tilapia.
Sprinkle with the paprika.
Bake at 400 for 25-30 minutes.