Baked Tilapia Fillets With Light French Onion Sauce
PaulaG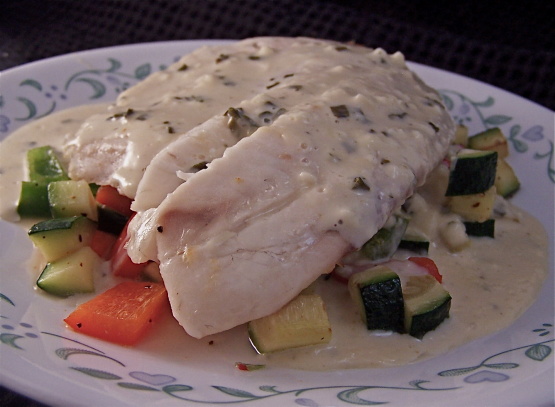 This recipe was from The Laughing Cow website. I printed it out over 4 months ago and now I have made it. This is a quick dinner that is sure to impress.

Oh what can I say....DELICIOUS!!! I fixed this as written for company and everyone loved this and it was so easy. I know that you can make the same simple sauce with other light laughing cow cheeses for different meats/vegies and they would be good. Served this with recipe#320456#320456, recipeZucchini Stuffed with Herbs#469526 (even with the zucchini in the dish I needed to make this for PAC) and we all ate well and were happy campers. Next time I think I will add some onion to the vegie mixture for us but this is going into my Favorites of 2013. Thank you for posting. Made for Spring PAC 2013.
Preheat oven to 350 degrees; prepare a baking sheet by spraying with non-stick cooking spray, rinse and dry fillets. Place on prepared baking sheet and season to taste with salt and pepper. Bake fish in oven until it flakes easily with fork, about 12 to 15 minutes.
While the fish bakes, warm 1 tablespoon olive oil in a large saute pan over medium-high heat; add diced peppers and zucchini; saute until crisp tender, season with salt and pepper, divide cooked vegetables among 4 plates and top with cooked fish fillet.
For the sauce; reduce heat to medium and add the remaining oil to pan. Gradually whisk in half-and-half and then cheese; stir until the cheese is melted and sauce begins to thicken, about 5 minutes. Stir in chives, season to taste with salt and pepper.
Drizzle with cheese sauce over plated fish; garnish with additional chives if desired.