KateL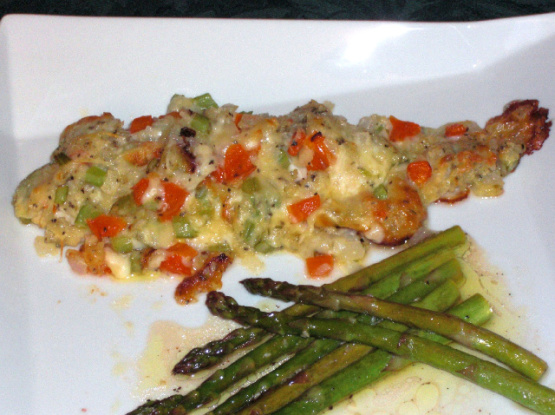 From the American Tilapia Association

Very tasty. I did not have any red bell pepper on hand so I used a bit of jarred pimento instead. Also, I used half oregano and half rosemary instead of tarragon. It turned out great! Will definitely make this again.
Saute the celery, onions and bell pepper in butter until the vegetables soften.
Add flour, salt, pepper, tarragon, basil, and milk, stirring until blended.
Cook sauce until it thickens, stirring constantly.
Lower the heat and add cheese, stirring until the cheese just melts. Do NOT boil the cheese or it will get stringy.
Rinse the tilapia fillets in cold salted water, then drain and pat dry.
Arrange the fish in a single layer in an oblong baking dish.
Spoon the sauce over all.
Bake at 425ºF for 8 to 10 minutes or until the fish flakes easily when tested with a fork.