Baked Texas Jalapeño Peppers
Anonymous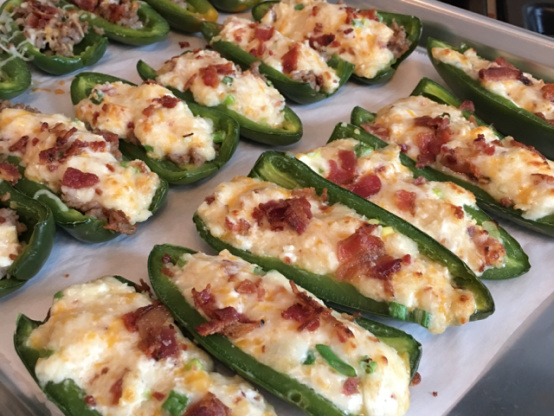 Another recipe submitted by a co-worker for our chili cook-off at work. These were gone in nothing flat!

I had just the right amount of peppers but wasn't having a party so I prepared as instructed (except I steamed mine in a steamer basket over boiling water) and baked what we planned to eat this evening as instructed. The others I made as instructed (by all means to speed up the process, I recommend using a food processor & a cookie dough scoop) and laid out on a jelly roll pan lined with parchment paper and froze for a few hours, placed in a freezer zip top bag for another day or party. Thanks for sharing we enjoyed them even though our peppers were hot, hot, hot. Make sure you wear gloves! Thanks for sharing.
Cut jalapeño peppers in half lengthwise; remove seeds. Place peppers in boiling water for 5 minutes. Drain well.
Combine cream cheese, cheddar cheese and Worcestershire sauce; stir well.
Place one heaping teaspoon cheese mixture on each pepper half. Sprinkle with bacon; Place on a baking sheet.
Bake at 400°F for 5 minutes or until cheese is melted.