Rita1652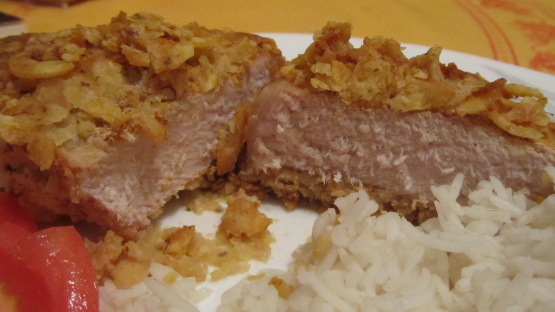 Very few ingredients for a crisp, juicy chop.

A few more ingredients would make this 5 stars. OK Mine was cooked and we didn't eat it for a couple hours so it was a bit dry. Not fault of the recipe. Cooking time is right on. Most definitely salt and pepper your chops before spreading with the mixture. I would add 1/2 teaspoon garlic powder to the chili powder as well. I wish I had time because salsa would have be perfect on this. I also suggest serving this on a bed of shredded crisp fresh lettuce. Garnished with cilantro. Thanks!
Stir the chili powder into the yogurt.
Brush on chops.
Press chops into chip mixture.
Arrange chops on baking sheet.
Spray with cooking spray.
Bake on bottom rack at 400* for 30 min, turning twice.