Baked Tater Soup for Mystergirl and the Sa's
Dawnab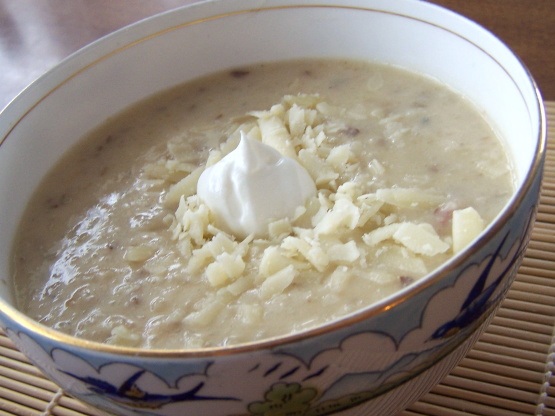 This is an adaptation of the soup that the restaurant in my building makes...and the SA's have been wanting me to post it, so here we go..I must warn though -- this is not a measured thing when I make it, so adjust amounts to your taste and have fun!

We had this for dinner last night. This does taste exactly like a baked potato. I think my potatoes were too big, I had to add 8 cups of broth to have a soup consistency. I was a little worried because at first it was like mashed potatoes. No worries with enough broth added it was perfect. Thanks for a unique potato soup recipe, Kirstin!
Cook onion til nearly carmelized Bake taters until tender.
Cool onion and taters, mash or run through food processor- I use the processor
Melt butter Whisk in flour and cook over med heat
Heat milk in separate pan then slowly stir warm milk into flour mixture, whisking
Heat through over medium burner but do not boil.
Add tater/onion mixture, grated cheese, and sour cream.
Start adding broth until you get the consistency you like Heat until cheese is melted and potatoes are warmed through.
Stir in bacon garnish with a bit more sour cream and some shredded cheese.