Baked Swiss Chicken and Stuffing
twissis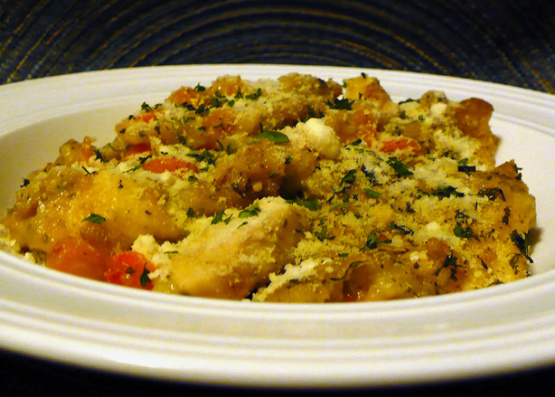 4 ingredients + quick and tasty = great combination! A Kraft recipe that you can throw together in no time. Serve with steamed broccoli or asparagus to complete your meal. Enjoy!

I really did begin w/good intent. I planned to make your easy-fix recipe w/1 chg - subbing Gouda for the Swiss cheese that is oddly hard to find here. Then I went astray. Since I usually add onion & celery to stuffing, I sauteed them w/the chicken to jump-start the cooking process. Having already partially "vegefied" the recipe, I took another step & par-boiled carrot coins to add. Since the recipe didn't specify an assembly method, I decided to mix everything together for even distribution of the ingredients & planned to save half the cheese for the top of the casserole. Then I went astray again & used a grated blend of Asiago, Parmesan & Romano I got in the US vs the Gouda. I hope you'll forgive the liberties I took expanding the recipe as the outcome was quite tasty. This is a basic ingredient & family-friendly quick-fix meal that IMO invites pers pref chgs & I esp favour these types of recipes. Thx for sharing this recipe w/us.
Heat oven to 400°F Prepare stuffing mix as directed on package; set aside.
Place chicken in 13x9 inch baking dish; top with cheese, soup and stuffing.
Bake 30 minutes or until chicken is done (internal temperature of 170F).