Baked Swiss Cheese Omelet
Parsley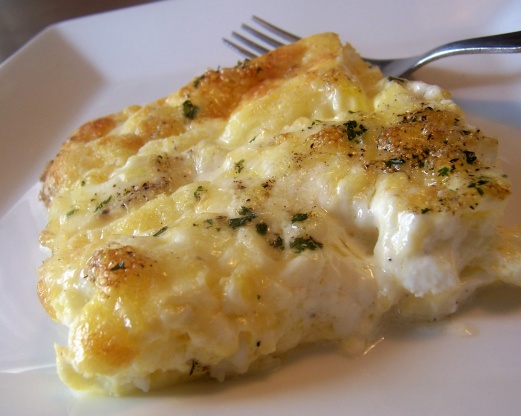 This is an excellent recipe for any weekend brunch with company or family! I serve for our Christmas Breakfast with homemade muffins, sausage and fresh fruit. From Saltwood House Bed and Breakfast.

Top Review by LAURIE
Bev, good (and fattening), had this for Sunday morning breakfast, cut nice squares but very rich. I did throw in some ham chunks. Delish and I froze it in squares to reheat for a quick breakfast for me at work...let ya know how that works out....TY for a great easy recipe!
Preheat oven to 350 degrees F.
Grease a 13x9x2 inch glass baking dish.
Spread the cheese over the bottom of the baking dish.
Dot with butter.
Pour half the heavy cream over the cheese.
Add the eggs and then the remaining cream.
Sprinkle with pepper.
Bake for 40 to 45 minutes or until set.
Serves 8.