Baked Sweet Red and Yellow Pepper Wedges
lynmoz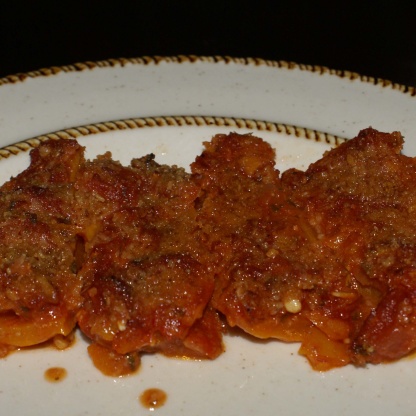 This is a delicious and different way to make peppers. There is a sweetness to this dish that appeals to almost everyone and is great with grilled meat. It would make a fantastic first course as well.

Top Review by Jezski
Delicious! A KEEPER! Good cold, room temp or hot. I used halved long sweet banana peppers, enough to fit in a 13 x 9 pan. Left out the pine nuts. Added 1/2 lb. of hot Italian sausage to the leftovers; that was terrific. I will do that next time at the start. As others did, I also cooked longer to soften the peppers. This would also be a good pasta sauce as well as a side dish. Or, meatless, a a starter. And it looks really appetizing. Geema, many thanks for this versatile recipe . . . Janet
Preheat the oven to 375 degrees.
Lightly oil a 13x9 inch baking pan.
Trim tops off peppers; discard the stems and finely chop the rest of the top of the pepper.
Cut each pepper lengthwise into sixths.
Place wedges, but side up, in oil pan; set aside.
Combine chopped pepper tops, onion, tomatoes, parsley, 1/4 cup olive oil, pine nuts, garlic, salt and pepper in a medium sized bowl.
Spoon equal amounts of mixture into each of the pepper wedges.
Bake wedges for 25-30 minutes or until just tender.
Sprinkle bread crumbs and 2 tablespoons oil over all.
Bake 10 minutes longer.