Baked Sweet Potato With Maple-Jalapeno Sour Cream
elmore5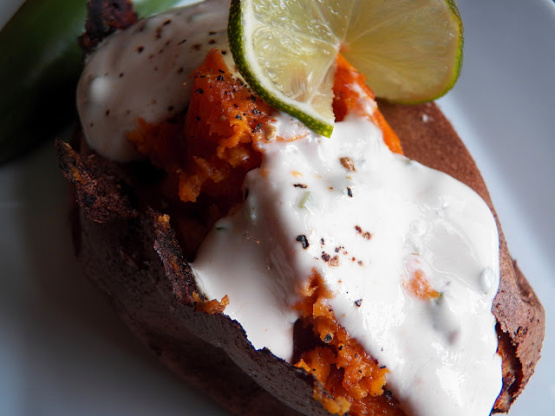 I clipped this recipe out of a trial magazine I received in the mail one day. The magazine was called Cuisine At Home. I'm not a fan of sweet potato recipes that are super sweet. This is a nice mix of spicy, tangy and a little bit of sweet.

Top Review by Ck2plz
4 and 1/2 stars for me. I was excited to make this because I love sweet potatoes. The maple syrup was a little strong for me; I will reduce it to 1/2 tablespoon. However, hubby brought home pickled jalopenos instead of fresh so maybe you will need 1 tablespoon. Next time I will start out with the half and adjust after this. Made for PAC 2011
Preheat oven to 450 and postiton rack in the center.
Scrub and dry sweet potatoes.
Rub potatoes with oil and salt.
Bake directly on rack for 40 to 45 minutes or until soft.
Combine Sour cream or yogurt with the maple syrup, jalapeno, lime juice and hot sauce. Chill unitl ready to serve.
Serve potatoes with a big dollop of the maple jalapeno sour cream mixture topped with crumbled bacon and green onions.