Baked Sweet Potato with Apples
Derf2440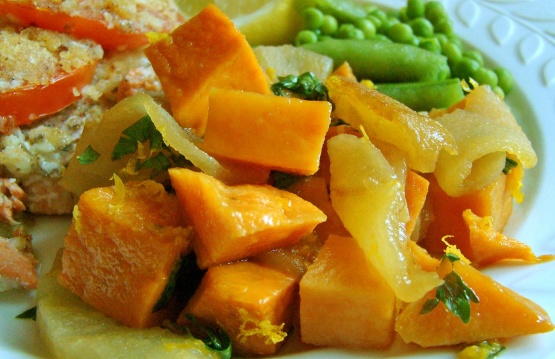 Found on a recipe card from the supermarket

Wonderful! Simple and very tasty. I followed the recipe almost exactly. I didn't have a grapefruit on hand, but I am sure it would have been lovely with that included. I did squeeze some fresh lime juice over the dish right before serving and it really brought out the sweetness. Next time I am going to sprinkle with some goat cheese and maybe toasted walnuts. Thanks for the recipe!
Preheat oven to 350 degrees F.
Mix the sweet potatoes,apple and sugar.
Butter a baking dish and put the potato mixture into it.
Dot with any remaining butter.
Cover and bake 40 minutes.
Uncover and sprinkle with the parsley and zest.
*Nice served with chicken or pork.