Baked Sweet Potato and Chile Wedges
Lawsome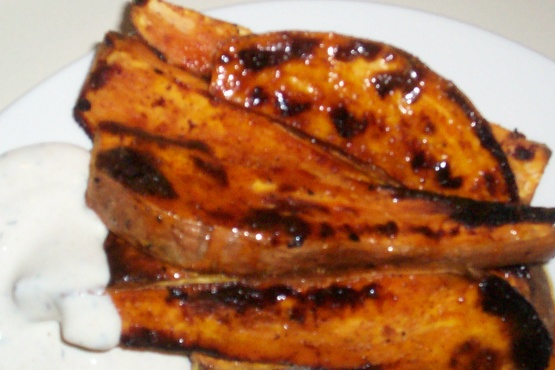 These are a great sweet spicy side dish that pairs nicely with fish or meat. The dip included in the recipe is FANTASTIC!

These are fabulous Erika!!! Thanks for introducing them to me!!
Preheat oven to 450°F Cut each unpeeled potato into 1-inch-thick wedges. Place in a large self-sealing plastic bag; toss with oil, sea salt, and pepper. Arrange in two 13x9x2-inch disposable foil pans.
Meanwhile, in small bowl combine orange juice, 3 teaspoons of the chili powder, and honey; set aside.
Bake potatoes, uncovered, 25 to 30 minutes or until tender, brushing three times with orange juice mixture, and shaking pan occasionally.
Meanwhile, in a small bowl combine sour cream, remaining 1/2 teaspoon chili powder, and 1/3 cup cilantro.
Transfer potatoes to a serving dish; serve with sour cream mixture. Serve immediately or at room temperature.