Baked Sweet Onion Cheddar Dip
Parsley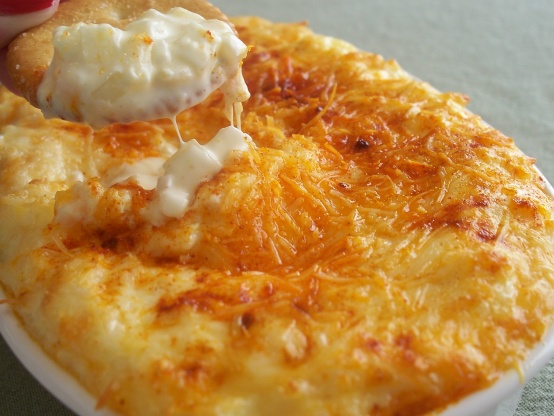 This has been a real hit gatherings! I often make a double batch.

This dip is rich and filling and popular at parties. I like to put chopped jalapenos in it too. We have made a double batch in one larger dish with half having jalapenos and half without.
Preheat oven to 350 degrees F.
In a bowl, mix together the onions, garlic, mayonnaise, yogurt or sour cream, cheddar, and Tabasco (and curry powder, if using).
Spread into a lightly pan sprayed small-ish baking dish.
Top with Parmesan and sprinkle with paprika to taste. (Ground ancho chile powder can be substituted for the paprika, for a little more kick. I prefer the ancho.).
Bake in preheated 350 degree F oven for 25 to 30 minutes. Garnish with chopped green onion (scallion).
Serve hot or warm with crackers, bread, or raw veggie dippers.
Makes about 6 servings. I usually make a double batch! :).
Source: I first found a similar recipe to this, which I adapted, from Ron from Worcester at Gail's Recipe Swap.