Baked Sweet and Sour Chicken
B.A.B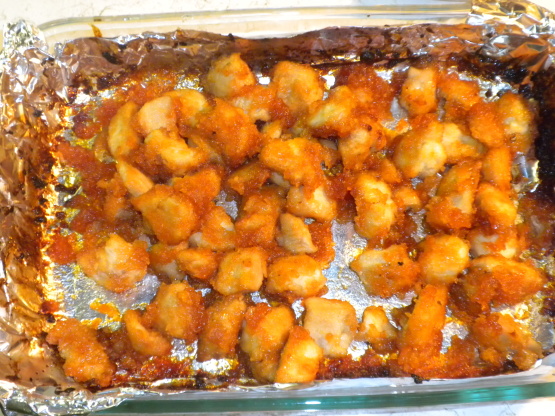 This is such an easy and delicious recipe I thought I would share it. I found this recipe on browneyedbaker.com.
I usually try a recipe as-is first, but this one I tweaked a little. I eliminated the salt and pepper; did half brown and half white sugar; used low-sodium soy sauce; added pineapple chunks and used the juice from the pineapples. Served with rice. This recipe is a total hit! I served almost 30 children, almost all had seconds and some had thirds! Even the pickiest in the bunch had seconds! The only thing I'd do differently next time is add some vegetables, such as steamed broccoli, peas, carrots, peppers. This was yummy and is a definite repeat for our school's hot lunch program!
Preheat oven to 325 degrees.
Season chicken with salt and pepper.
Working in two batches, toss the chicken pieces in cornstarch and then coat with the egg.
Heat the oil over medium-high heat and again in two batches, brown the chicken, turning it so that all sides are browned but not cooked through.
Place the chicken in a single layer in a foil lined 9x13 inch baking dish.
Wisk together the sauce ingredients in a small bowl.
Pour sauce evenly over the chicken and turn the chicken to ensure each piece is coated.
Bake for 1 hour, turning the chicken every 15 minutes.