Debbwl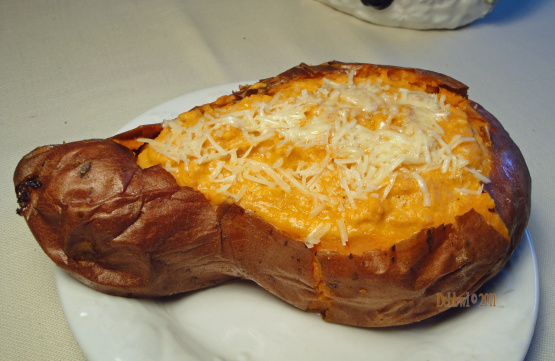 Yet another recipe that comes from the Sunset Ideas for Cooking Vegetables, 1973, & is a recipe worth considering for the winter holidays!

Top Review by Debbwl
The egg whites fold into the mashed sweet potato give this stuffed potato an almost soufflé feel and the saltiness of the parmesan mixed with sweet potato yum. I cut the recipe in half and used one super jumbo (3.5 pounder) sweet potato that DH and I shard, add a little extra parmesan to the top. Made for a nice lunch, thanks for the post.
Preheat oven to 400 degrees F & set out a shallow baking pan.
Scrub yams well & pat dry.
Rub each with butter or salad oil, then pierce skin with a fork & place in the baking pan.
Bake until soft, about 30-40 minutes, OR bake at a lower temperature along with meat for about 1 hour. Remove from oven.
While yams are cooling slightly, beat 2 egg whites until stiff, then set aside.
When yams have cooled enough to handle, cut a slice off a side of each yam so that you can scoop out the pulp into a mixing bowl & leaving about a quarter-inch thick shell.
To the pulp, add butter, salt & pepper & orange zest, beating to mix thoroughly.
Fold in beaten & stiff egg whites.
Stuff this filling back into the yam shells & sprinkle tops with Parmesan cheese.
Return to a 350 degree F oven & bake another 10-15 minutes before serving.