Derf2440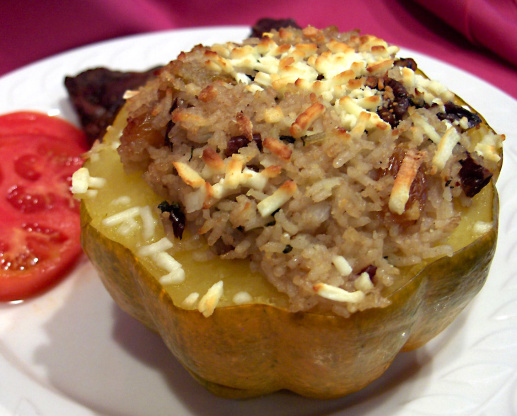 Mmmmm with rice, feta and toasted walnut stuffing, very tasty!!

Great flavor combination. I was cautious about it, so served the baked squash, rice-onion mix (quantities doubled), walnuts, sugar-spices mix and cheese separately and we each layered them to our taste at the table. All eventually decided to use the full set.
Preheat oven to 400F degrees.
Cut squash in half and scoop out seeds, and place place cut side down in a roasting pan, large enough to hold halves in a single layer. Add about 3/4 cup water to pan and cover tightly with lid or a tent of foil. Bake until squash is tender, about 35 minutes. (Cut a small slice off the bottom of the squash so that it will sit upright in the roaster.).
Meanwhile, melt butter in a small saucepan; add rice and onion; stir well to coat evenly. Stir in broth, sugar, cinnamon stick, raisins, cloves and nutmeg; bring to a boil. Cover and cook over medium low heat about 20 minutes for white rice , or 30 minutes for brown rice. The liquid should be reduced but the riace should remain a little firm. Remove rice from heat and discard cinnamon stick.
Stir in toasted nuts and parsley.
When cooked, remove squash from oven and reduce heat to 350F degrees. Divide rice mixture evenly among cooked squash. Sprinkle with feta.
Add 1/4 cup water to pan, cover roasting pan tightly with lid or tent of foil; bake stuffed squash in the centre of the oven for 25 to 30 minutes.