karen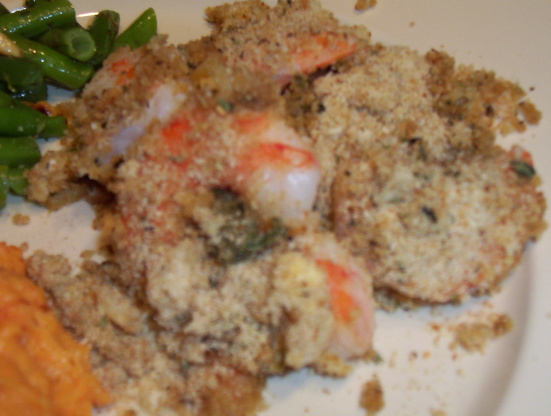 This is amazing, moist, delicious and a family favorite. We have it every year for Christmas dinner. Each of us eat a half dozen or more, so make lots! I have had a few questions about this recipe - so I have updated it! My mother suggests shrimp that comes 16 to 20 per pound. It really is delicious and hopefully the changes I made will improve it for everyone!

Top Review by karen
I really debated about if I should rate this at 2 or 3 stars, because the recipe has a lot of problems and didn't work for me as written. I guessed a little and made a few changes, and it actually turned out really tasty...so I'm giving it 3 stars. But, the shrimp were not 'stuffed'. Large shrimp was defnitely not big enough to stuff. If you want to try stuffing it, I would get jumbo. My problems: 1) Step #3 tells you to put oil into the baking dish, but there is no oil listed in the ingredients. I made a half recipe and used 1 tbsp of extra virgin olive oil. 2)I think there was WAY too much salt listed in this recipe - 2.5 tsps for 1 lb of shrimp. I used only 1/4 tsp of salt for a 1/2 lb of shrimp. 3)The recipe is hard to follow because the ingredients aren't in the order that you use them, and the word 'celcius' is used in step 3 when I think it was supposed to be 'cup', 4)The sour cream didn't blend into the bread crumbs, so I ended up with sour cream clumps...I would just leave it out next time 5) The onions should have been sauted first, they were almost raw in the finished dish. For personal preference I did double the garlic, and I used italian breadcrumbs. Since I couldn't figure out how to stuff the shrimp, I layed them on the bottom of the pan and poured the bread crumb mixture over the top. I did cover with foil and bake for 20 minutes. Very tasty...but needs a change in the description as 'stuffed' and work on the write up.
Preheat oven to 350 degrees.
Shell and devein shrimp, leave on tail.
In a 9 x 12 baking dish (this is what you will cook the shrimp in) combine the oil, garlic, salt, 1/4 cup butter and pepper.
Heat in the oven for 5 minutes.
Prepare stuffing: mix the basil, tarragon, onion, bread crumbs, 2 T. melted butter, 2 T. sour cream (I don't measure the sour cream too closely - add enough so the stuffing is fairly moist) and a pinch of salt.
Split shrimp and put a scant teaspoon of stuffing in each.
Lay in a single layer in the pan (that has oil, melted butter etc in it waiting for the shrimp!).
Baste with the liquid in the pan.
Enjoy!
Cover with foil and bake 20 minutes or so until the shrimp are done.