Baked Stuffed Polenta (Polenta Al Forno)
Jubes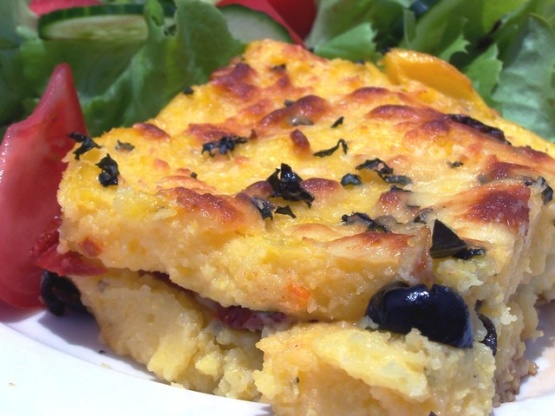 This recipe from the *Italian Cookbook 2* of the Australian Womens Weekly cookbook series admittedly requires extra work, but makes up for it w/a company-worthy outcome that is visually stunning as a main-dish when served w/an Italian salad + garlic bread. The polenta is stuffed w/salami, sun-dried tomatoes, black olives & cheese. It has 2 cooking steps, but all the prep is done in advance of the final cooking step in the oven. I have not made this recipe yet, but did simplify the recipe & prep. I am hopeful that someone among you will be open to an adventure & give it a try. Pls see my notes Re pan sizes + a 2nd stuffing option at the end of the prep. (This recipe serves 6 as a main-dish or 8 generously as a side-dish. Time does not include chilling the polenta under refrigeration for several hrs or overnite). *Enjoy* !

WOW. This was amazing. The sharp and salty flavor of the salami tasted so good with the mildness of the polenta. It's possible to cook this dish all at once without the extra step of cooling and cutting. Just make two pots of polenta at once, half size each. Spread one batch in the baking pan and sprinkle the filling over it (the polenta should be hard enough that the filling will stay on top) Then spread the rest of the polenta on top. Thank you so much for a great recipe, I will make it again for sure!
In a lrg saucepan, bring chicken stock to a boil & gradually whisk in the polenta. Reduce heat to simmer & cook 15 min or till very thick (while continuing to stir).
Remove pan from heat & stir in butter, 1st measure of Parmesan cheese + parsley.
Allow to cool slightly. Then press polenta mixture into an oiled 8 x 12-in lamington pan (See notes). Cool to rm temp & refrigerate several hrs (or overnite) till firm.
Turn polenta out of pan, slice horizontally in half, return bottom half to pan & set top half aside.
Evenly distribute sliced salami over the half in the pan, overlapping as necessary. Then evenly distribute the chopped tomatoes & black olives over the salami slices.
Combine Mozzarella cheese, 2nd measure of Parmesan cheese & fresh basil. Spread half of this mixture over the layered salami, tomatoes & black olives.
Gentle place top half of polenta over the layered ingredients & sprinkle it w/the 2nd half of the cheese & basil mixture.
Bake in a hot oven (400°F) about 30 min or till heated thru. The top should be lightly browned & crisp, so place under broiler as needed. Allow to cool slightly & serve immediately.
NOTES RE PAN SIZE: I do not have a lamington pan or a pan 8 x 12-in size. If made in one, the dish would be cut into 6 4x4-in square servings. I do have a 10-in rd glass baking dish that would be equal in size to the pan suggested. In this event, the dish would be cut in 6 wedge-shaped servings.
2nd STUFFING OPTION: As an 2nd option if you prefer, use thinly sliced prosciutto as a sub for the salami & keep all else the same.