Baked Stuffed Pasta Shells
Ashley Cuoco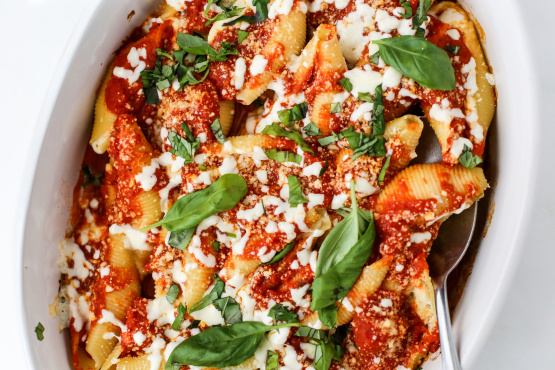 These are just fantastic! This is one of DH's favorite things I make. Great for family dinner or pot luck. This is really pretty easy to make and true Italian comfort food!

This recipe is nearly the same as what we have used for the last 25 years in our restaurant. The minor differences are we use 2 eggs and 2 egg yolks, we add a pinch of nutmeg and we use our own meat based sauce...other than that this is identical. Since it is one of the dishes that is most popular, we make this in 20 lb batches of filling. We also do this same recipe with spinach and with spinach and sausage. We use browned hot Italian sausage and squeezed cooked spinach and add a little of each to the filling but the original Cheese only is still the most popular.
In an 8 quart pot, bring water to a boil and cook shells for 8 minutes or until al dente.
Drain and cool immediately with cold water.
Drain and place open side down on paper towels.
In a medium bowl, combine the rest of ingredients except the spaghetti sauce.
Reserve the 1/4 cup of Mozzarella.
Place a thin layer of spaghetti sauce into the bottom of a 12 x 9 x 2 inch baking dish.
Preheat oven to 375 degrees Fahrenheit.
Spoon the cheese mixture into each pasta shell and place open side up, in a single layer, in prepared pan.
Pour the rest of sauce over the stuffed shells.
Loosely cover with foil and bake for 40 minutes.
During last 5 minutes of baking, remove foil and sprinkle remaining Mozzarella cheese on top.
Bake 5 more minutes.
Garnish with fresh chopped basil.