Kiwiwife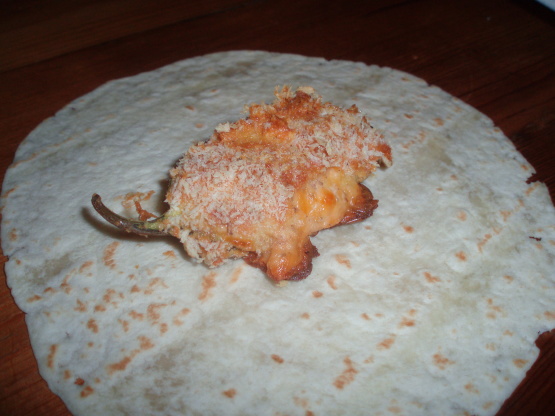 If you want extra heat add in cayenne pepper to taste, lower fat cheeses may be used if desired :)

These are pretty good. We liked the texture with the mild flavor. We added bacon bits to the top and used italian seasoned bread crumbs. Toaster oven for 25 minutes. Nice - thanks a bunch for a different recipe to use.
12

fresh green jalapeno peppers (2-1/2 to 3inches long) or 12 red jalapeno chiles (2-1/2 to 3-inches long)

4

ounces shredded cheddar cheese

1

(3 ounce) package cream cheese, softened
1⁄2 teaspoon dried Italian seasoning, crushed

2

teaspoons fresh minced garlic (optional)

2

eggs

1

tablespoon milk or 1 tablespoon half-and-half
2⁄3 cup fine dry breadcrumb
guacamole or sour cream, for garnish
Cover a large baking sheet with foil; set aside.
Cut each pepper in half lengthwise; remove the seeds and membranes (I always were plastic gloves for this, as the seeds are VERY hot, do not touch your eyes!).
Stir together the cheddar cheese, cream cheese and Italian seasoning and fresh garlic in a medium mixing bowl.
Spoon some of the cheese mixture into each pepper half.
Beat together the eggs and milk in a small mixing bowl.
Place the bread crumbs in a shallow bowl.
Dip each pepper half into the egg mixture; and then roll in the crumbs to coat all sides.
Place pepper halves (filled side up), on a prepared baking sheet.
Bake at 325°F for 30 minutes, or until tender and heated through.
Serve with guacamole or sour cream.