Baked Stuffed Blueberry French Toast for 2
Rita1652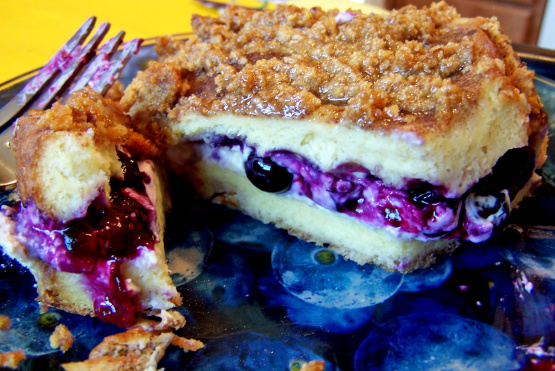 Made the day before just sprinkle on topping and place in oven. Hop in the shower and breakfast is ready. A great way to start any day. Baked french toast filled with cheese and blueberries. One of my RSC recipes That I didn't enter. Go figure!
Warm cheese in microwave oven for 5-10 seconds just to softened; stir in vanilla and splenda.
Butter a Pyrex Loaf Dish which is just large enough to hold tightly the 2 slices of bread.
Spread the cheese mixture on the bread and top with blueberries; place the 2 remaining slices of bread on blueberries.
Mix the flour, salt, eggs, milk, cinnamon, almond extract, and Splenda pour over bread. Cover with plastic wrap and refrigerate overnight.
Place on counter at room temperature in morning.
Preheat oven to 350 degrees.
Mix brown sugar, graham cracker crumbs and butter and sprinkle over the soaked bread.
Bake for 25-35 minutes.
Enjoy topped with whipped cream.
Optional toppings of syrup, and or yogurt.
Garnish:.
cinnamon and sugar.
fresh blueberries.