Baked Stuffed Apples With Walnuts or Pecans
ImPat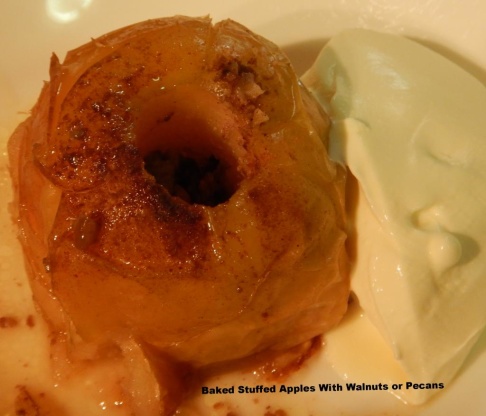 Another variation of Stuffed Apples I got from the nearby Apple Orchard nearby.

I didn't think this was so great. Getting the core out was kind of a challange. I used granny smith apples, walnuts, peanuts, and splenda. I would try a different kind of apple. Too tart!!! I planned on having them in the crockpot for 4 hrs on low but they turned too mush after two hours and split. Topped them with ice cream.
Mix chopped walnuts, or pecans and sugar in a small bowl.
Stand cored apples on bottom of slow cooker. Spoon nut-sugar mixture into centers of apples, dividing evenly among apples.
Sprinkle stuffed apples with cinnamon, and dot with butter.
Add water`along side of the cooker.
Cover, and cook on Low 3-5 hours, or on high 2 1/2- 3 1/2 hours, or until apples are tender, but not collapsing.
Serve warm as is, or with ice cream or frozen yogurt.