Baked Stuffed Apples With Apple Pie Spice
Jubes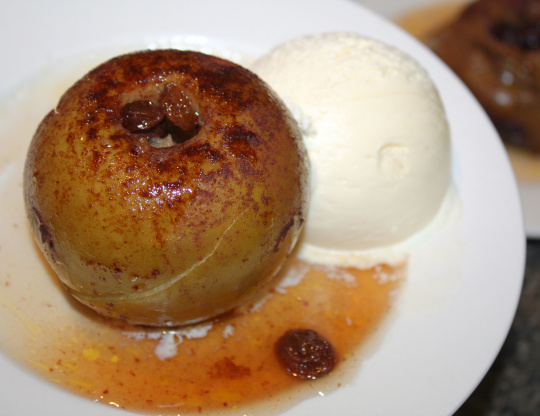 Another variation of Baked Stuffed Apples I received from the nearby Apple Orchard.

Top Review by ImPat
Very easy to put together though getting to know my slow cooker better (and here I give a lot of thanks to weekend cooker for some great recipes that have helped me sort out the timing that are best for it) I cooked 3 apples for 2 hours on low at which point they were cooked but just on the firm side and turned to keep warm and an hour later they were perfect though the skin had begun to split just a little (forgot the old trick of scoring round the circumference of the apple to stop this happening) and served with a dollop of cream for a delicious dessert. I did use sultanas instead of raisins and next time would consider brown sugar to give a slight caramel taste to the recipe, thank you weekend cook, made for Everyday A Holiday tag game. Ooops forgot to mention don't get apple pie spice here so used all spice and worked great.
Mix raisins and sugar together in a small bowl.
Stand apples on bottom of slow cooker. Spoon raisin-sugar mixture into centers of cored apples, dividing mixture evenly.
Sprinkle apples with apple pie spice, and dot with butter.
Add water along the edge of the cooker.
Cover, and cook on low 3-5 hours or on high for 2 1/2 - 3 1/2 hours or until apples are tender but not collapsing.
Serve warm as is, or with ice cream or frozen yogurt.