Debbwl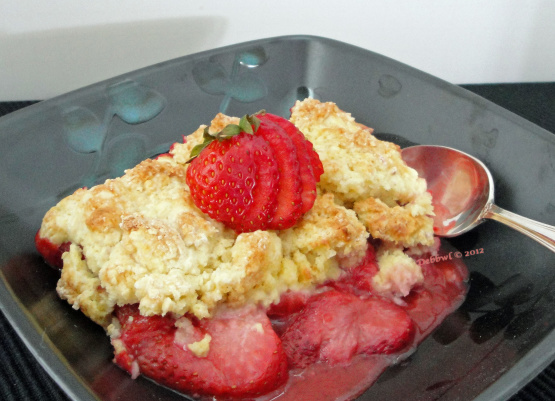 From Florida's stawberry bake-off.

Top Review by Debbwl
I love cobblers and this one was no exception. The berries made a nice chunky sauce and the crust was light tender and with the prefect amount of crumble to it. I did cut the recipe in half using egg beaters to get half an egg and baked in a 4x4 for the full time. Did serve without ice cream but would recommend adding a scoop of vanilla ice cream as it would push this yummy cobbler right over the top. This will be enjoyed again before the summer is out. Thanks for the post.
Preheat oven to 350F and lightly grease an 8×8-inch baking dish.
Combine strawberries, 4 teaspoons flour, and 1⁄4 cup sugar and place in prepared dish.
In a medium bowl, combine remaining 1 cup flour, remaining 3 tablespoons sugar, baking powder, and salt.
Using a pastry blender, cut in butter until mixture is crumbly.
Add egg and milk, stirring just until dry ingredients are moistened.
Spoon dough over strawberries by teaspoonfuls.
Bake until crust is golden brown and filling is bubbly, 35 to 40 minutes.
Let cool for 5 to 10 minutes before serving.
Serve with vanilla ice cream, if desired.