Baked Spinach and Noodles
karen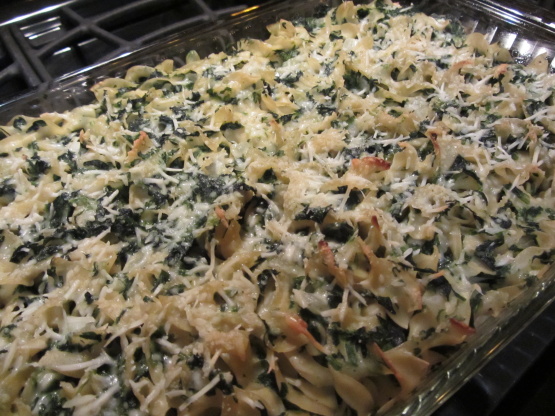 This was inspired by another recipe I tried here, but by the time I made changes to make it healthier and to accommodate what was in my fridge, it really was a completely different recipe. It is a cross between the noodle kugel I grew up with, mac & cheese (minus the cheese) and baked creamed spinach.

I think this makes a very good side dish or lunch. I cooked it as a main dinner dish, and it wasn't entirely satisfying as such. I made some additions- diced roma tomatoes, black olives, and some mozzarella cheese. I think in the the future I would increase the white sauce by a few ounces. Definitely cover with foil before baking. I will make this again, but will make sure I have other dishes to go with it. Thanks for sharing the recipe!
Cook noodles according to package directions.
While noodles are cooking, make a white sauce - add flour to an 8 oz measuring cup, then add a small amount of milk to the flour. Stir until flour is absorbed and there are no lumps. Fill the rest of the measuring cup with milk so that the total amount is 8 oz.
Melt butter in small pot, then add milk/flour mixture. Stir continually over med-high heat until the white sauce has thickened. Add salt & pepper to taste. Remove from heat and set aside.
In a frying pan, saute onion in olive oil until translucent. Add garlic and continue cooking for 3 minutes.
In a large mixing bowl, combine noodles, cooked onions and spinach. Add a little white sauce to the beaten egg and then add egg mixture and remaining white sauce to the spinach and noodles. Add kosher salt and pepper. Mix well.
Pour into casserole dish sprayed with cooking spray (I used a 2 quart dish, but an 8x8 inch dish should also work).
Sprinkle top with Parmesan cheese.
Cook for 35 minutes at 350 degrees.