twissis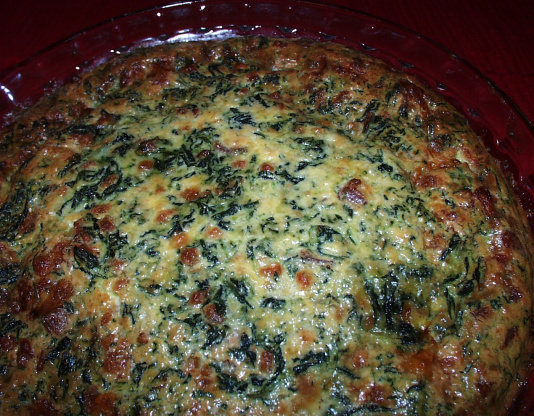 I have a problem with my middle child eating vegetables. He seems to have an aversion to 'green'. This is one way to get him to eat his spinach and the whole family loves it, too.

I make this all the time and my whole family loves it!! I use fresh spinach, cook it and then chop it up and mix with other ingredients. I also double the recipe every time because it is such a hit and everyone always wants more. Thank you for giving me a way to pack in a lot of spinach in a little serving!!!!
Preheat oven to 400 degrees F.
Butter a 9 inch glass pie plate.
Combine the eggs, bread crumbs, cream cheese, salt and nutmeg and stir in spinach, half and half and Cheddar.
Transfer spinach mixture to pie plate and bake for 20-25 minutes, or until set and puffed slightly.
Note: I sometimes fry up a few rashers of bacon until crisp, drain and crumble them into the spinach mixture.