Sally S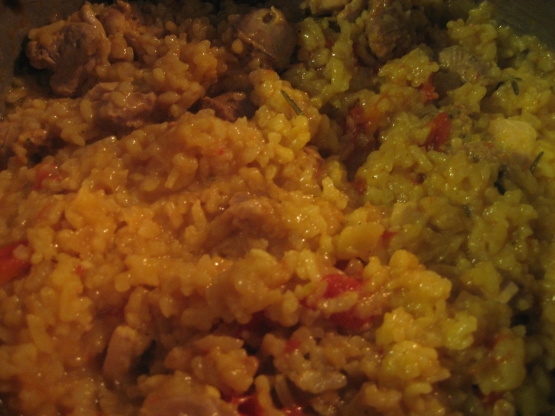 This dish is inspired by the Spanish classic Paella and is cooked from raw in the oven. The rice can be a little soft, cooking it this way but it's absolutely delicious and so easy!
Great dish. We're vegitarian (we each fish) and I found this dish easy to convert. I used 3/4 of a bag of Moringstar chicken strips chopped, 2 Tofurkey italian sausages sliced, Knorr Veggie broth in place of the chicken broth, and then I sliced up some shrimp. I also finished this dish on the stove top to control the doneness of the rice. I pulled it out when I added the shirmp and then finsihed it on the stove. This way I could add more broth or water to ensure that the rice was fully cooked. We'll be making this one again... and again... and ....
Preheat the oven to 425°F
Place the cherry tomatoes in a roasting tin and sprinkle over the red onion, garlic and olive oil.
Roast for 20 minutes until the tomatoes are softened.
Stir in the rice, chicken, chorizo, rosemary, chicken broth, saffron and some salt and pepper, mixing well together. Return to the oven for 20 minutes.
Stir in the shrimp and return to the oven for a further 10 minutes until the rice is tender and the chicken is cooked through.