Boomette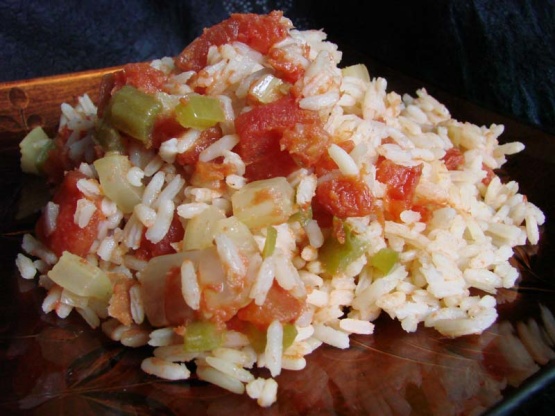 This "kicked up" rice dish is a family favorite. If you have some saffron threads, add in a good pinch for even extra flavor. Make certain to use only converted rice for this recipe. If you do not like it spicy then use only a pinch or omit completely.

This was great. I love olives, and I just left them whole; so if some one doesn't like them, they can just pick them out and give them to ME! I put in a teaspoon of red chili powder, which made it nice and spicy, and sauteed chicken chunks (until done and browned) in with the onions and green peppers, making it a one dish meal. Makes a lot so you have leftovers. I didn't have converted rice; used medium grain rice. Cooking time was fine; it is stickier than it would be with the converted.
In a oven-proof Dutch oven or a large frypan with an oven proof tight fitting lid, melt the butter.
Saute the onions, garlic, celery and green pepper until soft (about 4-5 minutes).
Add in the converted rice and mix with a wooden spoon for about 3 minutes.
Carefully add in the chicken broth and diced tomatoes (with juice) along with all the remaining ingredients; stir to combine, and simmer on top of the stove on low heat for 5-6 minutes (just long enough for the mixture to boil).
Set oven to 350 degrees.
Cover with an oven-proof tight fitting lid and place in oven to cook for about 30-35 minutes or until the rice is at desired tenderness.
Fluff with a fork.
Delicious!