Baked Spaghetti With Chicken and Spinach
Patti C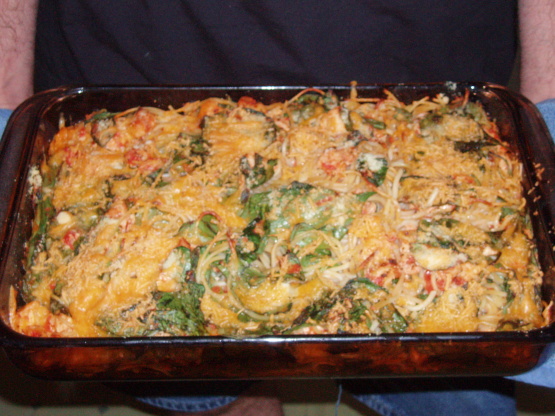 One of our favourite ways to serve spaghetti, leaves a nice tingle. Serve with a fresh green salad and crusty rolls.

Top Review by surus
I was looking for a traditional baked spaghetti recipe but this sounded good so I gave it a try. It was GREAT! I used diced tomatoes and added some sweetener (too much) so next time I will be sure to use the Italian stewed tomatoes. In spite of the sweetness my husband and I both loved it. I am lookinf forward to making this again. I skipped the whole chopping, blending of the sauce ingredients and it was still great.
Cook spaghetti, al dente, drain and set aside.
Heat oil in large saucepan.
Add garlic and onion, cook until soft, but not browned.
Add chicken, brown on all sides, turning often, until no longer pink.
Sauce: In a blender or food processor, add stewed tomatoes, basil, tarragon, salt, chili flakes, parsley, garlic and cheese.
Pulse until just chunky, not smooth.
Add sauce to chicken mixture.
Stir and simmer for 15 minutes.
Line an oven proof casserole with the spinach.
Lay the spaghetti over the spinach.
Pour the chicken/sauce mixture over the spaghetti.
Bring a spoon up through the layers to mix lightly and turn the spinach throughout.
Sprinkle cheeses on top and add another dash of chili flakes if desired.
Bake at 400°F for 20 to 30 minutes.