ImPat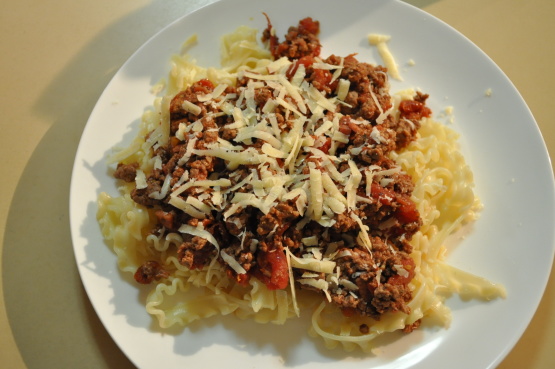 Top Review by ImPat
The ratings for this went from 3 to 5 stars so we have gone for 4. I did have to omit the onion due to allergy issues and could not get pancetta so used bacon and used about 800 grams of very lean minced beef but only about 2 tablespoons of the tomato paste (not a flavour I am keen on unless fried out in a dish). I also used fresh rosemary and oregano and upped the amounts (3 sprigs of rosemary leaves and about 1 tablespoon of oregano). I did use the catouche (baking paper) on top of the mix and would definately recommend or you could end up with a very dry mix. Thank you FrickersMum, made for PAC.
Fry the pancetta and rosemary in olive oil until golden. Add the onion and garlic and cook for 3 minutes.
Add beef, cook for 3 minutes, then add the wine. Reduce slightly, then add oregano, tomatoes, sundried tomatoes and tomato paste.
Add salt & pepper to taste and bring to the boil, cover and cook for 1 - 1 ½ hours in a moderate oven. (I usually cover this with a piece of baking paper - right on the surface of the sauce).
Serve over spaghetti with grated parmesan cheese.