Baked Spaghetti (Cheesy & Spicy)
Leona S.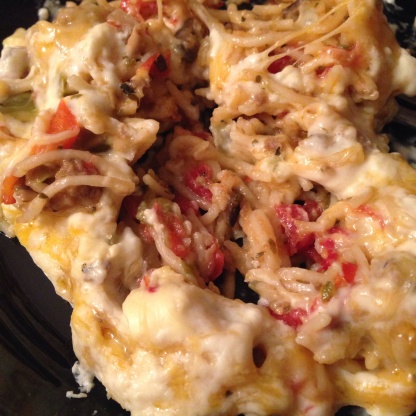 I know there are a lot of Baked Spaghetti recipes on Zaar, but this is one my sister and I came up with for our group study, and it was so good, I wanted to keep the recipe here. It makes a lot, but freezes well. You can also make it the night before and just pop it in the oven the next night.

Quite good. I made as directed the first time, and then made some trial changes the second time, which turned out very nicely, I thought. I mixed one can cream of mushroom soup with 5 ounces light sour cream (no water), some pepper and paprika, and combined that mixture with the pasta rather than topping the casserole with it. I used 3 cans of Rotel. I replaced the cheddar with additonal mexican blend cheese, and omitted the parmesan (I prefer to add parmesan at the table). I halved the amount of salt used, but will probably omit it alltogether the next time I try this. Thanks for the new baked spaghetti recipe!
Saute onion, peppers and garlic in 1 tablespoon of butter over medium heat until tender.
Add tomatoes, mushrooms, olives, hamburger meat, basil, oregano, salt and pepper and simmer for 10-15 minutes.
Place 1/2 of the spaghetti in a greased 13x9x3 inch dish.
Top with half the meat sauce mixture.
Sprinkle with 2 cups of Fiesta Blend Cheese.
Repeat layers.
After second layer of cheddar cheese, sprinkle all the parmesan cheese on top.
Mix soup with water and pour over casserole. I used my finger to spread evenly so not to disturbe the cheese.
Sprinkle with paprika to garnish.
Bake uncovered at 350 degrees for 35-40 minutes or until heated through.
NOTE: I believe because of all the cheese in this recipe, there is extra liquid/water after the spaghetti is cut and allowed to sit. Don't worry about it. When the remaining dish is stored, just drain off extra liquid. It does not affect the taste of the recipe.