Parsley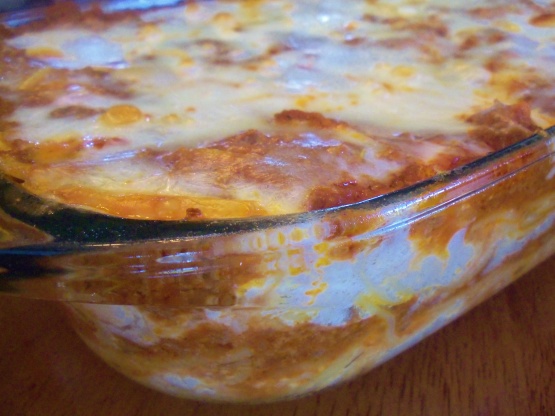 I got this recipe from Taste of Home's Simple and Delicious magazine.

This was simple to put together. It was a little dry, so I might add a little more spaghetti sauce next time.
Cook spaghetti according to package directions.
Meanwhile, cook beef and onion in a large skillet over medium heat until meat is no longer pink; drain.
Stir in spaghetti sauce and seasoned salt; set aside.
Whisk eggs, parmesan cheese and butter in a large bowl.
Drain spaghetti; add to egg mixture and toss to coat.
Place half the spaghetti mixture in a greased 13-inch by 9-inch baking dish.
Top with half of the cottage cheese, meat sauce and mozzarella cheese.
Repeat layers.
Cover and bake at 350 degrees for 40 minutes.
Uncover, bake 20-25 minutes longer or until cheese is melted.