Parsley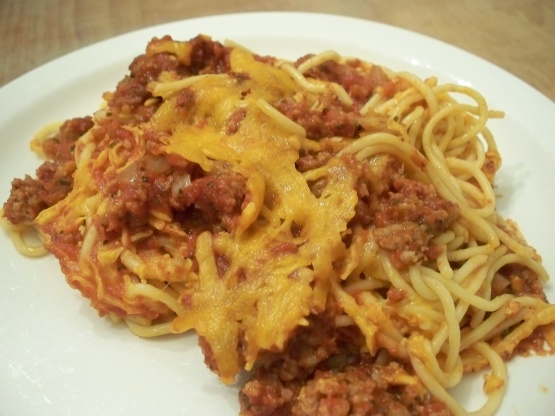 I love making this recipe and people love polishing it very quickly. I like that you can make it before you need it and clean up the kitchen! Then, take it out of the frig and pop it in the oven... et voila! Great for covered dish/potluck dinners; travels well--and even yummy when reheated. Enjoy! (Recipe from ex-MIL)

I didn't really care for this recipe. I think the worcestershire sauce was probably what turned me off, it was a little too tangy. I was expecting it to be a little creamier than it was, it actually turned out to be a pretty thin sauce. I don't think I'll be making this recipe again.
Cook spaghetti according to pkg directions; drain.
Place in lightly greased 8x8-inch baking dish; top with grated cheese.
In Dutch oven, brown meat, onion, and garlic until meat is cooked, stirring to crumble; drain.
Stir in tomato sauce, ketchup, Worcestershire, mushrooms, and seasonings; simmer 5 minutes, stirring often.
Pour over spaghetti, spreading evenly.
Cover tightly with foil and refrigerate overnight.
Bake uncovered at 350° for 25-30 minutes.
Recipe is easily doubled.