Bergy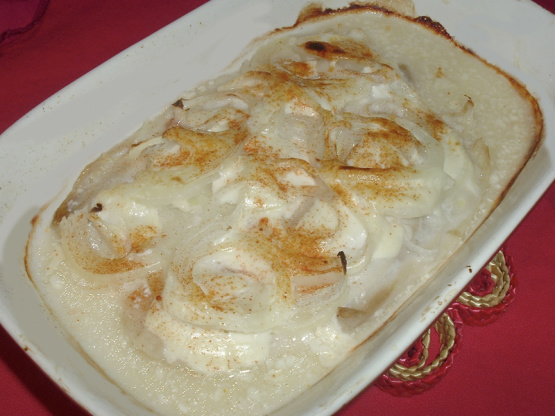 Sole is my favourite white fish; serve this with rice and a green vegetable for a quick, healthy meal.

Top Review by Jill77
My first attempt at preparing fish and it was a pleasant experience. I only made a couple of the slightest variations. A little extra wine in the sauce (oops my hand slipped). Also after baking I added another sprinkle of paprika and a touch of fresh parsley for color. Served as you suggested with white rice and garlic green beans. I am not a big fish person, and I thought it was quite tasty. My BF loves fish and he raved about it! Thanks Lennie!
Preheat oven to 375F degrees.
Butter a shallow baking dish and arrange fish pieces in it; cover fish with onion slices.
In a small bowl, whisk together sour cream, wine, flour, lemon juice and the seasonings; pour over the fish and onions.
Bake, uncovered, for 25 minutes or until fish is tender; do not overcook or fish will dry out.