Baked Scallops With Mushrooms
Julesong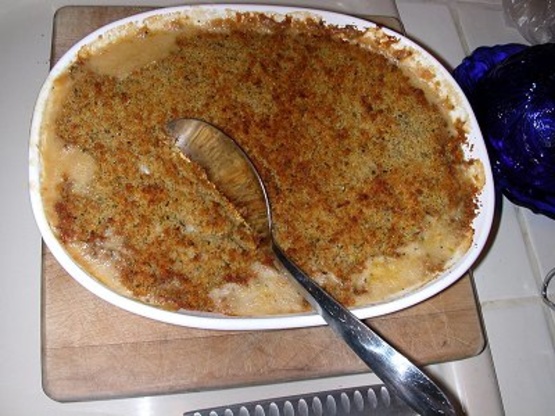 A delightful scallop recipe, enhanced with cheese, wine and spices. The mushrooms also give the recipe another different taste.

Top Review by Bergy
At last Uncle Bill I've wanted to try this recipe for ages and this time when company was here I did it! The recipe is excellent and I will be making it again. The ony changes I made was to use 2% milk instead of half & half and cut the butter to 1 tbsp - It worked well. This is a real keeper and I will make it again Thanks Uncle Bill for making my dinner a complete success
Preheat oven to 450°.
In a large heavy bottom frying pan, melt 1/4 cup of butter; add green pepper and onion and sauté over medium heat for 3 minutes.
Add sliced mushrooms and cook for 3 minutes.
Add 2 tablespoons butter to pan and sprinkle in flour, salt and lemon pepper; mix well and cook on low heat for 3 more minutes, stirring constantly.
Remove from heat, add half and half cream, cheese, paprika and nutmeg and stir to mix.
Return to heat and on medium-high heat return to boiling, stirring constantly.
Reduce heat to low and cook until mixture is thick and smooth stirring frequently.
Remove from heat, stir in scallops and wine.
Spoon mixture into buttered scallop shells or buttered baking dishes, about 1 cup size.
In a small bowl, mix together bread crumbs with Italian seasoning mix and 2 tablespoons of melted butter.
Sprinkle bread crumb mixture over scallop mixture in each dish.
Bake in preheated 450°F oven for 12 to 15 minutes or until bubbling and lightly browned on top.
Serve immediately.
If scallops are large, cut into smaller chunks before adding to mixture.