teresas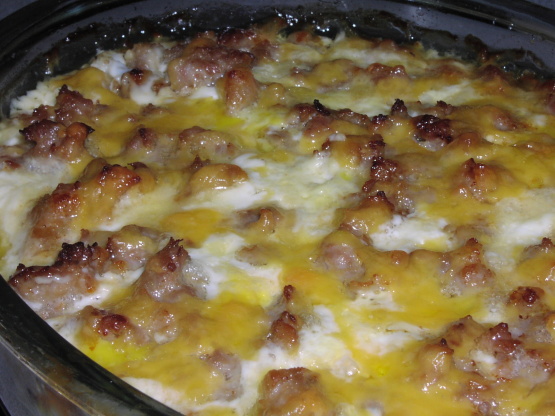 Wilma Lulowss recipe that Darlene Kossman got from Dorathy Wolsake and Agnes Ollsigle; served at Ladies Aid brunch October 16, 1986; called Eggs Lorraine.

This is so yummy! I cut the recipe down to two servings...worked great. We loved the flavor and it came out of the oven perfect. This is easy to prepare and depending on your sausage your flavors will vary..I used a basic breakfast sausage...we did top it with some hot sauce because we love the heat. Thanks for posting. :)
Brown sausage and drain; set aside.
Butter casserole dish.
Sprinkle half grated cheese on top of butter.
Crack eggs on top of cheese; break yolks.
Add salt and pepper.
Pour unwhipped cream over eggs.
Top with cooked sausage.
Top with rest of cheese.
Bake 30 minutes at 350 degrees Fahrenheit.
Can be made ahead of time.