Derf2440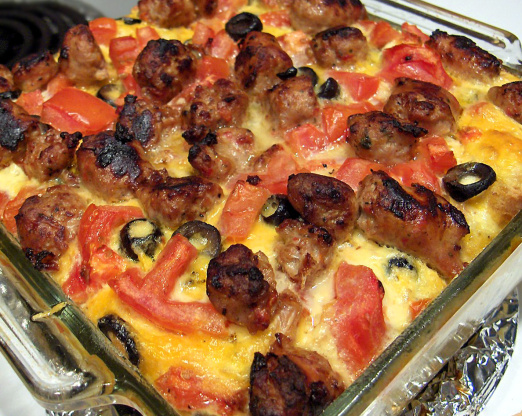 Great twist for a Sunday Breakfast!

Very nice, I had no mushrooms so i subed with black olives which turned out very good! Just made half a recipe in a 9 x 9 dish, which came out thicker I guess cus I had to bake it about 20 minutes longer than called for to get the middle set. Enjoyed it very much for Supper on a Saturday night and the rest for breakfast Sunday morning. Another time I think I will put the sasage under the top, they got a little over done on top; I used 2% milk which seemed to work well; also may add a little cayenne to put a little bite in it next time. all in all we love it and will be making it again. thanks for posting.
Place bread in well buttered 9x13 baking dish.
Sprinkle with cheese.
Combine the next six ingredients over the top.
Sprinkle sausage, mushrooms and tomatoes over the top.
Cover and chill overnite.
Preheat oven to 325F degrees.
Bake uncovered for about an hour.
Put foil on top if it browns too quickly.