Baked Salmon with Orange Juice
loteneh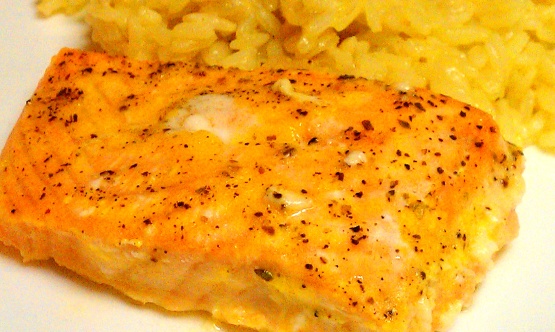 Tangy baked salmon recipe. I use Tropicana Orange Juice. Sometime mix orange juice and lemon juice to give a more tangy flavor.

Top Review by April1
Well I made this because I didn't have the correct ingredients for our favorite baked salmon. This was very good and the orange flavor was just enough. I used fresh squeezed orange juice as I didn't have store bought. I also put some slices of oranges on top. I baked mine for 20 minutes covered and about 10 minutes uncovered just to brown it some and concentrate the orange juice a little. I served this with red potatoes and green beans. Very good and is definitely a keeper in our family! Even our 17 month old liked it...how bout that for good salmon. Thanks for sharing.
Pre-heat oven at 350 degrees.
Grease a baking dish lightly with butter.
Clean and pat dry the Salmon Steaks or Fillets.
Rub salt on both sides (not necessary on the skin-side).
Place salmon pieces in the baking dish in a single layer.
Make deep cuts in the salmon pieces, dab some butter into the cuts and also dab a few bits of butter on the rest of the salmon.
Pour orange juice all over the fish.
Sprinkle pepper, oregano and for those who like a dash of sweet taste, sprinkle some sugar which will caramalize.
Bake until the salmon flakes.