Baked Salmon With Lemon and Capers
vyoung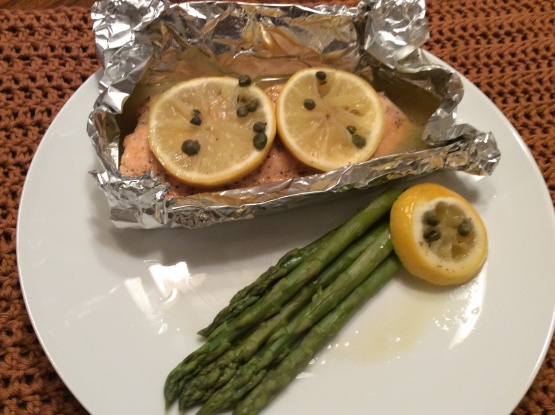 I found this recipe from food network, Giada make this, I thought easy and delicious, without make pan dirty.What a good dish! I made some change, hope you will like it!

Really delicious and easy! Had to make it without the wine since I did not have any. Added fresh rosemary.
Preheat oven 400 degrees F.
Brush top and bottom of salmon fillets with olive oil and season with salt, pepper, and garlic powder.
Place each piece of seasoned salmon on a piece of foil large enough to fold over and seal.
Top the each piece of salmon with 2 lemon slices, 1 tablespoon of lemon juice, 2 tablespoons of wine, and 1 teaspoon of capers. Wrap up salmon tightly in the foil.
Back them 15-20 minutes.