Baked Salmon With Caper Sauce
GMFLEX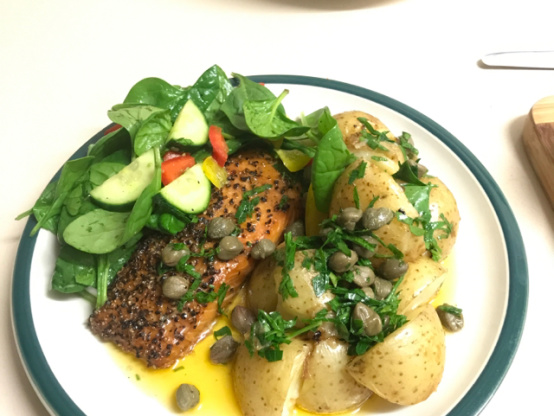 This is English cookery at its best! Recipe given by James Beard.

Absolutely beautiful recipe for salmon steaks. I made half a batch -- cutting back on the butter and using the juice of a lemon and basil in place of parsley, because that was what I had on hand. Capers, which I love so much, are a perfect addition. Served with roasted tomatoes, and steamed kipfler potatoes and broccoli. Thanks so much for posting.
Rub the salmon steaks with lemon juice and brush them with melted butter.
Season with salt and pepper to taste.
Arrange in a baking dish and bake in preheated hot oven (425°F) for about 20 minutes, basting with a combination of melted butter and lemon juice every 5 minutes.
Do not turn.
Arrange the cooked salmon steaks on a hot platter.
Mix the pan juices with the chopped parsley and capers, and pour over the steaks.
If additional liquid is needed, add a little dry vermouth or white wine.
Good with new potatoes, dressed with butter and parsley, and a cucumber salad.
Makes 4 servings.