Derf2440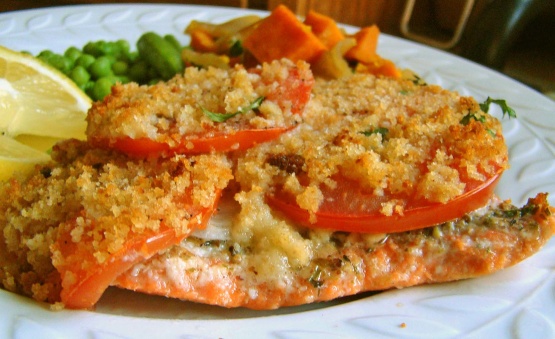 Another 'don't know where it came from' recipe, but it tastes good, so who cares!

Eating this now. Suggest new name for recipe - white wine poached salmon with garlic, tomato and onion. YUMMO. Super easy to prepare. Made me open a bottle of wine. Lots of reasons to love this recipe. Yes, I would in fact serve this for company...thanks for asking! :)
Spray a shallow baking pan with nonstick coating.
Add wine.
Place fish in pan, and sprinkle with oregano, garlic, salt, and pepper.
Sprinkle with juice of 1/2 lemon and 1 Tbsp olive oil.
Top evenly with tomato and onion slices and chopped parsley.
Drizzle with remaining lemon juice.
Mix breadcrumbs with remaining 1 Tbsp olive oil, and sprinkle over veggie topped salmon fillets.
Bake in a 450 degree F oven for about 8-10 minutes or until fish flakes easily.