Baked Rigatoni With Spinach, Ricotta, and Fontina
Parsley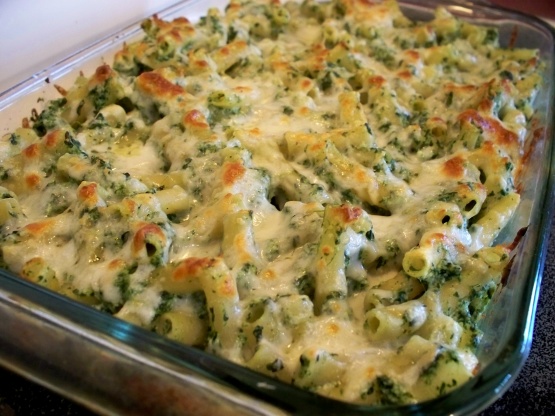 I found this in an old issue of Food and Wine. It sounds quick and good. Here's how the magazine describes it. A quick take on spinach and ricotta cannelloni, this baked pasta is fast because there's nothing to stuff. The filling is simply tossed with cooked rigatoni that's then topped with fontina and baked to a golden brown.

Followed the ingredients & directions right on down, but didn't squeeze out all the moisture from the spinach (The tip from another reviewer that the resulting puree was a bit too thick led me in that direction!), & the resulting puree came out just fine! Really enjoyed the blend of cheeses in this dish! Thanks for sharing the recipe! [Made & reviewed while touring Italy on Zaar's World Tour 4]
Heat the oven to 450 degrees F.
Oil a 9-by-13-inch baking dish.
In a large pot of boiling, salted water, cook the rigatoni until almost done, about 12 minutes.
Drain.
Put the pasta in the prepared baking dish and toss with 1 tablespoon of the oil.
Meanwhile, squeeze as much of the water as possible from the spinach.
Put the spinach in a food processor and puree with the ricotta, 3 tablespoons of the Parmesan, the nutmeg, salt, and pepper.
Stir in half the fontina.
Stir the spinach mixture into the pasta.
Top with the remaining fontina and Parmesan.
Drizzle the remaining 2 tablespoons oil over the top.
Bake the pasta until the top is golden brown, 15 to 20 minutes.
VARIATION:.
You can substitute another chunky pasta, such as penne rigate, penne, ziti, or fusilli. Boil all of these one or two minutes less.