Baked Rigatoni With Aurora Sauce
alligirl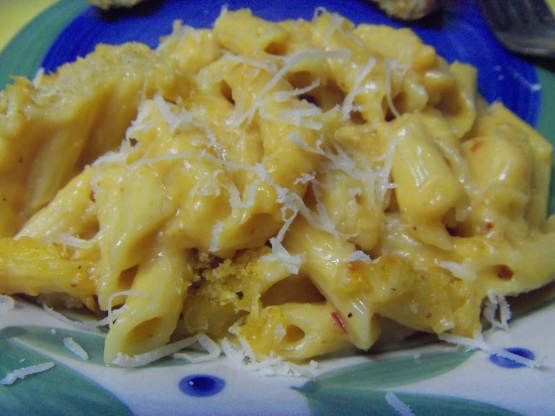 Aurora sauce is a combination of bechamel, cream and tomato puree. My boys love this simple, quick dish.
Delicious! I added some garlic and Italian seasoning (I was out of basil) and red pepper flakes to the cream sauce. Then mixed in some cooked baby shrimp and fresh spinach before baking to make it a main dish. Also used fresh Parmesan/Romano mixed cheese. This would also be good using chicken instead of shrimp. This was a very impressive dish!
Make bechamel sauce using 6 tablespoons butter, flour and milk.
(Melt butter, add flour and cook until bubbly, then add milk and whisk until thickened).
Stir in tomato sauce.
Add salt and pepper.
Cook pasta until al dente.
Drain, mix well with sauce and 1/2 of the Parmesan cheese.
Turn into buttered oven dish.
Mix remaining cheese with breadcrumbs.
Top casserole with this mixture, then dot with remaining butter.
Bake at 425 degrees for 10 minutes.