Baked Ricotta With Italian Parsley Salad
Zurie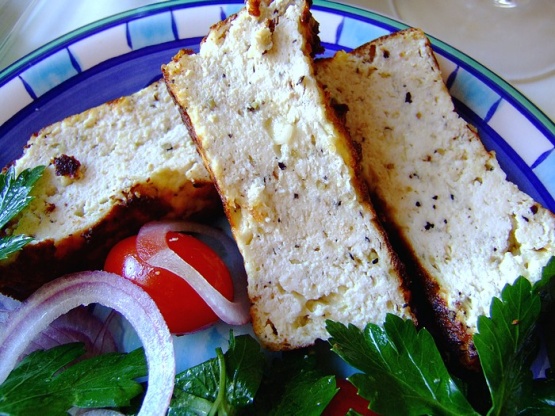 Ricotta needs to drain for several hours (overnight is best). The salad can be served immediately but tastes better when it has rested an hour or so. Add crusty bread and white wine for a delicious lunch.

Top Review by Zurie
Reviewed and photographed for PHOTO TAG, March 2009. I tagged this recipe because it was "different"! The ricotta I found happened to be a quite expensive type, and needed no draining. It was soft and delicious. I halved Julie's recipe exactly, because we are only 2 people, and because I had no suitable dish, baked it in a small loaf tin. Didn't change a thing except I added very finely chopped garlic to the ricotta! I half expected this recipe to be far too bland. It had time to stand around a few hours. We were plesantly surprised: yes, it doesn't have wildly surprising tastes, but it was really pleasant. I also made the parsley salad ahead of time, and it all fitted together very well. Julie, I could not find the small yellow cherry tomatoes, sorry! I used my own vinaigrette dressing, which is made with virgin olive oil, to dress the parsley salad, as without some oil the ensemble would have been far too dry! We had this as a side with meat balls and veggies, but I'd suggest that a sweet chilli-garlic sauce would complement this recipe perfectly if eaten by itself, with bread and wine. Thanks, Julie!
Put ricotta in a large sieve or colander lined with a double thickness of cheesecloth. Cover the ricotta with the cheesecloth, set the sieve or colander over a bowl to catch the draining whey, and set a plate with a weight on top of the ricotta to speed draining. Refrigerate for several hours or overnight.
RICOTTA PIE:
Preheat the oven to 375°. Butter a 10-in pie pan. In a large bowl, stir together the ricotta and Parmigiano-Reggiano. Season to taste with salt and pepper. Stir in the eggs, beating well. Transfer the mixture to a prepared pan spreading it evenly. Bake in the upper third of the oven until puffed and lightly brown-55 minutes. Let cool, then unmold onto a cutting board.
PARSLEY SALAD:.
In a large bowl, combine all the ingredients. Toss well. Taste and season according to personal preference. Serve immediately or let stand for up to 1 hour, tossing occasionally.
Cut the ricotta into 8 wedges and place on individual plates. Accompany each serving with some of the parsley salad.