Baked Rice Pudding (Unni Riisipuuro)
Niesgirl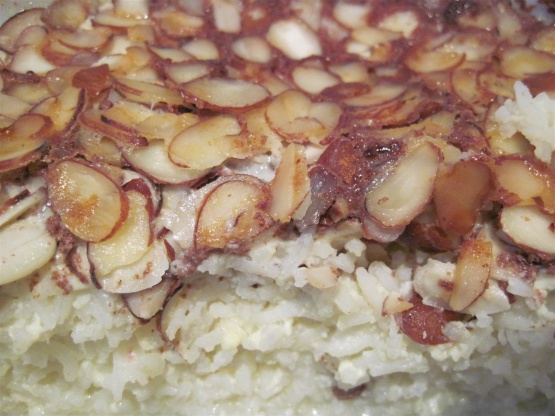 Based on a recipe from Beatrice Ojakangas' cookbook, The Finnish Cookbook. If I said that I love this recipe, it may be my taste buds, heavily influenced by the Finnish-American culture in which I grew up! To me and my visiting brother, this is divine! As an added bonus, my brother researched foods that help one with quality sleep, and this is among them! :) Will my DH eat this -- not on his life! He did taste it though, so he knows what he's missing! NOTE: In its introduction, Beatrice explains, "At Christmastime, a blanched almond is often pressed into this pudding before it is served, and it is said that the person who gets it will have good luck during the following year."
I have not made this recipe due to the fact that I never heard of rice custard like this. I lived in Finland 1955-1982 and 191-1992. What we made for Christmas was a rice porridge. Rice is cooked in whole milk with some salt. That's it. It is served with sugar or cinnamon and sugar sprinkled on top, maybe a dollop of butter, or fruit soup (sekahedelmäkiisseli). The secret to the deliciousness is that you don't just cook it for 20 minutes; cook as long as you want, just keep adding milk as the porridge thickens. I think my mom sat at the stove, stirring, for a couple of hours way back when Teflon hadn't been invented. As the water evaporates from the milk, among other things it leaves behind lactose (milk sugar). You really don't even need a recipe, just calculate the amount of rice based on how many mouths you feed. and some extra because you will want leftovers. It is delicious hot, lukewarm, room temperature or fridge cold. My dad liked it the best right after Christmas, made into patties and fried crisp in butter on a cast iron pan. Now my mouth is watering. P.S. Any kind of short grain rice works. P.P.S. Mom made it for lunch on Christmas Eve.
1

cup uncooked rice

3

cups milk
1⁄4 cup butter, melted
1⁄2 cup sugar

3

eggs, beaten
1⁄2 teaspoon salt
1⁄2 cup almonds, sliced and unblanched

1

teaspoon cinnamon

1

whole almond, blanched (optional)
light cream
Cook rice according to package directions. Drain and rinse under cold water.
Combine milk, melted butter, sugar, eggs, and salt.
Stir in the rice and pour into a well-buttered 2-quart casserole.
Combine the sliced almonds and cinnamon and sprinkle over the pudding.
Bake in a moderate oven (350 degrees Farenheit) for about 1 hour or until the pudding has thickened sufficiently.
Press the whole almond into the pudding and cover the mark left.
Serve either hot or chilled with the light cream to pour over it.