Iceland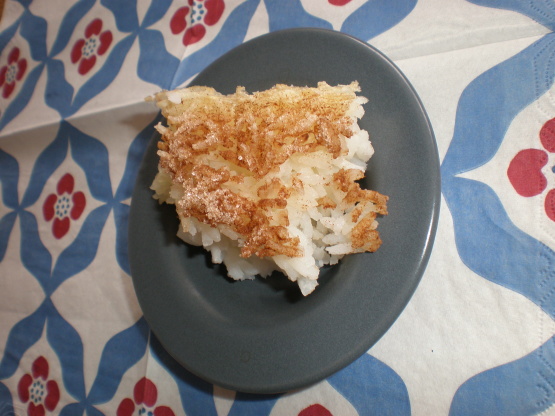 This recipe was taught to me by my Dad. My indian grandmother prepares this when we come to visit her. (Late addition based on review: we don't add any sugar on purpose, the long slow cooking process caramelises the milk which is sweet enough for us, but add some sugar if you prefer!!)

Sorry, this did not work for us, at all. It was creamy enough, but lacked taste, even though I added golden raising. I did doctor it up with cinnamon and sugar, so it won't go to waste. I'm sorry it was not to our taste, Zaatarbella. Made for PAC Fall 2009.
Preheat oven to 160 degrees celsius.
Rinse rice until water runs clear.
Combine all ingredients in a large oven casserole dish.
Cook uncovered in oven for 2 hours.
Raise oven temperature to 180 degrees celsius and cook for 1 hour more.
Serve with vanilla ice cream.
Variations:.
can add cardamon powder/pod, flaked almonds, raisins/sultanas, coconut essence.