Baked Red Snapper With Citrus - Tomato Topping
llk2day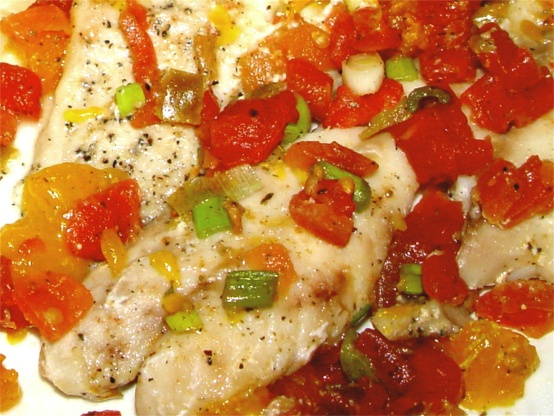 This is a slightly alterd recipe from Epicurious. The spicy hot topping makes a nice change for baked fish.

I made this last night, and my husband and I loved it. I cut the salt in half, and used garlic salt rather than regular salt. I also had to substitute a tangelo - there were no tangerines at the store. I served it over rice pilaf, and it is quite simply the best recipe I've found on the site so far.
Preheat oven to 475 degrees.
Coat the Red Snapper on both sides with some of the olive oil and sprinkle with salt and pepper.
Place the fish in a 9-inch glass pie dish.
Mix remaining oil, tomatoes w/green chilies, tangerine pieces, green onions and cilantro in a small bowl.
Season topping to taste with salt and pepper, and fish herbs.
Spoon the topping over the Red Snapper.
Bake until Snapper is just opaque in center, about 15-20 minutes.
Can be cooked through if preferred.
Sprinkle almonds on top of each serving.