Parsley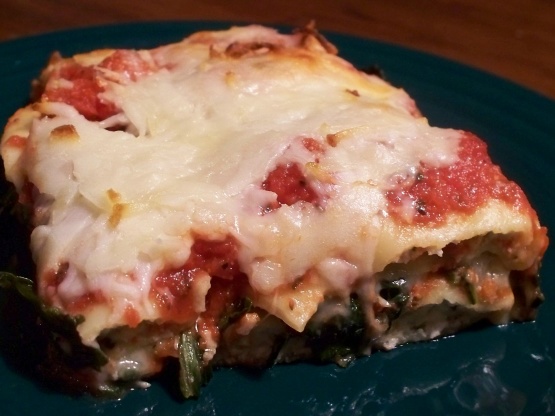 This baked ravioli has lasagna-like flavor, but is WAY less work.

This was tasty and easy - though (and I can't believe I'm saying this) a bit too much cheese - with the cheese ravioli, parm, and mozz, so next time I'll scale that back a bit. I also think some more veggies like mushrooms, green peppers, and olives would add a lot to this dish (though would also add time)
1

(28 ounce) bag frozen cheese ravioli (large and round work best)

1

(28 ounce) jar marinara sauce (Prego Chunky Garden Tomato with Black Olive and Garlic preferred)

1

cup parmesan cheese, freshly grated

2

cups shredded mozzarella cheese

10

ounces frozen spinach, thawed and squeezed of liquid (fresh spinach can also be used and is easier than thawing)
black pepper, to taste
Pour some tomato sauce into bottom of 9x13 inch casserole (just enough to keep the bottom wet).
Place a layer of frozen ravioli (no need to thaw or pre-cook) in the sauce. Sprinkle with spinach, Parmesan, and mozzarella.
Place another layer of ravioli. Pour the rest of sauce over the ravioli.
Sprinkle rest of cheeses over the sauce. Season with black pepper to taste.
Bake covered with foil for 30 minutes at 350 degrees. Uncover and bake for another 30 minutes or until cheese melts and sauce bubbles.