Sageca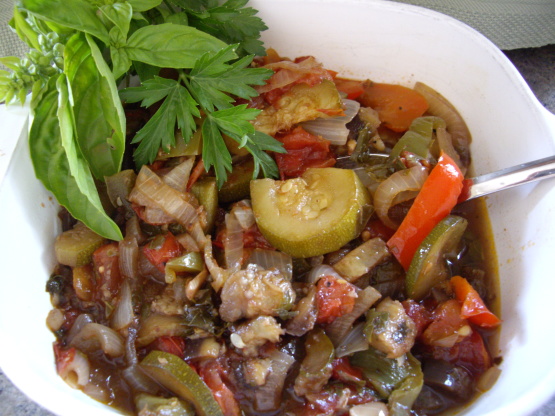 It is the season for this French specialty but couldn't find a recipe that suited me so I came up with this. I found something similar in Epicurious, but I love to add my own touch. I know it is NOT the Authentic Ratatouille but trust me it is super good and healthy; no oily taste is this one. Hope you try it and like it.
1

medium onion, cut 1/2 and sliced

4

garlic cloves, peeled, and minced

1

shallot, finely chopped

1

medium eggplant, cut into bite-sized pieces

1

zucchini, tsliced in 1 in pieces

1

green pepper, seeded, and cut into bite-sized pieces

1

sweet red pepper, seeded, and cut into bite-sized pieces

2

tespoon olive oil
Pam cooking spray

1

large ripe tomatoes, cut in bite-size chunks

2

tablespoons good balsamic vinegar

4

tablespoons fresh basil, chopped

4

tablespoons fresh parsley, chopped
1⁄4-1⁄2 teaspoon seasoning, your choice
salt and pepper
Preheat your oven to 350 * F.
Spray Pam or other oil spray in oven proof casserole.
In large skillet heat olive oil; add garlic, onion,shallot and eggplant.
Sauté for 10 minutes.
Add zucchini, peppers and tomatoes.
Cook another 5 minutes.
Stir the basil, parsley,salt, pepper and the balsamic vinegar.
Mix thoroughly but carefully not to smash the vegetables.
Transfer to prepared casserole.
Cover with foil and bake for 45 minutes, until tender, but the vegetables should retain their shape. The vegetables release a lot of liquid.
This Ratatouille is delicious straight from the oven, at room temperature, or cold. Fantastic sprinkled with freshly shredded parmesan cheese.
Tip: For the seasoning, I suggest Emeril's Essence, Old Bay or anything you prefer to add a bit of nip.